Beginning from 2019.01.01 PWM Edition is not going to process any orders placed in internet shop by individual customers from countries other than Poland. Please find your local distributor on the list, or order our sheet music through the Hal Leonard online shop: http://www.musicshopeurope.com http://www.halleonard.com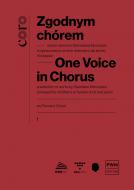 One Voice in Chorus B. 1
A selection of works by Stanisław Moniuszko arranged for children's or female choir and piano
Countries of delivery:

The presented arrangements comprise two books. The first contains arrangements of six songs and one part of the Crimean Sonnets; the second consists of six arrangements of excerpts from Moniuszko's operas. Essentially, the arrangements are scored for children's or female choir. A few works feature solo parts, given to a soloist or a group of soloists ('An Old Man and an Old Woman', 'The Spinstress', 'Heavenly Father', 'The Firs Sough on the Mountain Top', 'Flowers Grow from under the Needles'). In two arrangements ('An Old Man and an Old Woman' and 'The Firs Sough on the Mountain Top'), the solo part can also be transposed and sung by a male voice. In the song 'Two Chums', I decided to vary the sound of the choir by introducing a part for body percussion.
The arrangements are tailored to the performance capabilities of children's and amateur ensembles. That said, both books include some more difficult arrangements (e.g. 'An Imp', 'The Spinstress', 'A Son of Cracow', 'Hey! Play with Spirit'). All the works can be performed with the accompaniment of piano or string orchestra with timpani and optional piano.
 
Dr Roman I. Drozd
Series: Coro
ISMN 979-0-2740-2358-4
Number of pages: 84
Cover: softcover
No. of edition: 1
Published: 2019
Type: choral score with accompaniment
Size: A4 vertical (210x297 mm)
25,00 EUR
Suggested retail price.