Beginning from 2019.01.01 PWM Edition is not going to process any orders placed in internet shop by individual customers from countries other than Poland. Please find your local distributor on the list, or order our sheet music through the Hal Leonard online shop: http://www.musicshopeurope.com http://www.halleonard.com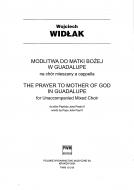 Prayer to Mother of God in Guadalupe
for unaccompanied mixed choir (choral score)
Countries of delivery:

This is the price of one copy. For different number of copies (minimum: 16) please contact us: sales@pwm.com.pl.
The study score you can find here
In the first version ''The Prayer to the Mother of God in Guadalupe'' is scored for mixed choir, brass instruments, percussion and double basses. Its premiere took place in Cracow on 8 May 2000. Soon afterwards, bearing in mind the practical performing aspect, I made the present version for unaccompanied mixed choir. Both versions of the composition are typically sacred in nature: the music plays a subservient role to the deep, universal content of the prayer. The vocal-instrumental version has clearly solemn overtones, while the a cappella version introduces the listener to the more austere atmosphere of contemplation and personal prayer. The verbal layer of the composition consists of excerpts from the prayer delivered by the Holy Father in Mexico in January 1979. I heve arranged them so that they form a kind of litany, starting and ending with the same main invocation. The musical language of the work, simple and intelligible, contains some archaic elements. It ought to harmonise with a church interior and help in prayer. That is why ''The Prayer to the Mother of God in Guadalupe'' is, above all, suitable as a setting for Catholic services (especially those which are ''Marian'' in content), and enriches the choral music repertory at the same time. [Wojciech Widłak]
ISMN 979-0-2740-0088-2
Language of text: pol
Number of pages: 28
Cover: without cover
No. of edition: 1
Published: 2004
Type: choral score
Size: A4 vertical (210x297 mm)
6,00 EUR
Suggested retail price.