Beginning from 2019.01.01 PWM Edition is not going to process any orders placed in internet shop by individual customers from countries other than Poland. Please find your local distributor on the list, or order our sheet music through the Hal Leonard online shop: http://www.musicshopeurope.com http://www.halleonard.com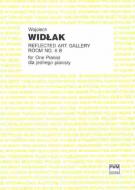 Reflected Art. Gallery. Room No. 6 B
for One Pianist
Countries of delivery:

Cat. no. 10266

ISBN ISSN: M-2740-0062-2
I wrote ''Reflected Art Gallery. Room No. 6 b'' for one pianist in 2000 for Andrzej Pikul, who commissioned Cracow composers to write ''works in the form of fantasy''. It is a sister composition to ''Reflected Art Gallery. Room No. 6 a'' for seven instruments and was written for Ensemble soNoR (Azerbaijan) on the occasion of III European Composers' Informal Meeting - Baku 2000. These works are the first (and so far the only ones) in an already planned cycle of compositions, scored for different instruments, whose common idea is an attempt to construct new music on the basis of the output of various composers and epochs, already in existence and familiar to audiences. For my own use I began to form a private musical gallery, as it were, full of ''pictures'', surrounded by strange mirrors, which give non-typical, sometimes distorted reflections of elements, motifs, figures and idioms... In ''Reflected Art Gallery. Room No. 6 b'' one may find the echoes of the music of the great Polish romantic. His initials F-C-H [the notes F-C-B in English] form the motif running throughout the piece. The reflections take on shapes which are not always expected by the listeners and which meet and pass each other in various planes and time-dimensions. The composition provides considerable opportunities for individual interpretation, as Andrzej Pikul has proved many times and as is confirmed by the numerous performances of other Polish and foreign pianists. [Wojciech Widłak]
Series: Contemporary Music
Language of edition: eng, pol
Number of pages: 16
Cover: softcover
No. of edition: 1
Published: 2003
Type: instrumental solo
Size: A4 vertical (210x297 mm)
20,00 EUR
Suggested retail price.