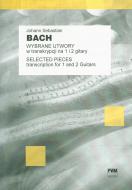 Selected Pieces
in Transcription for 1 and 2 Guitars
Countries of delivery:

Cat. no. 6847

ISBN ISSN: M-2740-0036-3
Many lute works by various composers, including Bach, have been adapted to the present-day guitar music, because the guitar, as the immediate successor of the lute, is capable of faithful rendition of all the characteristics of its famous predecessor. The characteristic structure of lute music and its undoubted influence can be noticed in many compositions by Bach written for other instruments, notably for piano, so that they may be transcribed for guitar while retaining almost 'literally' the shape of the originals. Here we can mention, above all, the easier dance pieces from the ''Clavierbüchlein'' for Anna Magdalena Bach as well as some preludes and inventions. Those compositions - intended by their author mainly as didactic material for improving contrapuntal piano texture - may fulfil the same task in guitar playing. Therefore, while studying and preparing the pieces (not too difficult, after all) included in the collection, one should take special care to bring out the contrapuntal parts in the most precise and vivid way. For it is only through the precision of performance and entering into the spirit of the style of these compositions that one may unfold the whole beauty of the Bach music. 
Language of edition: eng, pol
Number of pages: 52
Cover: softcover
Size: A4 vertical (210x297 mm)
Table of contents:
| | |
| --- | --- |
| Bach Johann Sebastian | Aria C-dur |
| Bach Johann Sebastian | Bourrée a-moll |
| Bach Johann Sebastian | Bourrée C-dur |
| Bach Johann Sebastian | Bourrée e-moll |
| Bach Johann Sebastian | Chorał d-moll |
| Bach Johann Sebastian | Chorał d-moll |
| Bach Johann Sebastian | Courante c-moll |
| Bach Johann Sebastian | Double h-moll |
| Bach Johann Sebastian | Gawot D-dur |
| Bach Johann Sebastian | Gawot G-dur |
| Bach Johann Sebastian | Gigue a-moll |
| Bach Johann Sebastian | Giguetta C-dur |
| Bach Johann Sebastian | Inwencja C-dur |
| Bach Johann Sebastian | Marsz D-dur |
| Bach Johann Sebastian | Marsz G-dur |
| Bach Johann Sebastian | Menuet a-moll |
| Bach Johann Sebastian | Menuet a-moll |
| Bach Johann Sebastian | Menuet c-moll |
| Bach Johann Sebastian | Menuet d-moll |
| Bach Johann Sebastian | Menuet d-moll |
| Bach Johann Sebastian | Menuet G-dur |
| Bach Johann Sebastian | Menuet G-dur |
| Bach Johann Sebastian | Polonez g-moll |
| Bach Johann Sebastian | Polonez g-moll |
| Bach Johann Sebastian | Preludium C-dur |
| Bach Johann Sebastian | Preludium c-moll |
| Bach Johann Sebastian | Preludium G-dur |
| Bach Johann Sebastian | Sarabanda g-moll |
| Bach Johann Sebastian | Sarabanda h-moll |
21,00 EUR


print on demand
Other author's publications