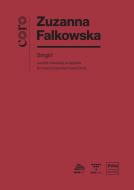 Singin'
for unaccompanied mixed choir
Countries of delivery:

Singin' is a composition for mixed choir a cappella, written in 2018 to a commission from the Polish National Youth Choir conducted by Agnieszka Franków-Żelazny. This work is part of the 'Youth for Youth' project organised to mark the choir's fifth anniversary. Crucial to this composition was the choice of words, since the idea for the project centred on singing the praises of song. Problems with finding a suitable text led me to write my own, reflecting my character and my approach to singing, particularly orientated towards singing in a mixed choir. The music, written at the same time as the lyrics, is designed to express the joy and energy which distinguish the Polish National Youth Choir. I was also anxious to include elements presenting the universal profile of each section – sopranos, altos, tenors and basses – and in effect to encourage listeners to sing in a choir. Hence the middle section contains a humorous passage that urges the singers to perform their parts like actors.

Zuzanna Falkowska
translated by John Comber" 
Series: Coro
ISMN 979-0-2740-3138-1
Number of pages: 20
Cover: softcover
No. of edition: 1
Published: 2020
Type: choral score
Size: A4 vertical (210x297 mm)