Beginning from 2019.01.01 PWM Edition is not going to process any orders placed in internet shop by individual customers from countries other than Poland. Please find your local distributor on the list, or order our sheet music through the Hal Leonard online shop: http://www.musicshopeurope.com http://www.halleonard.com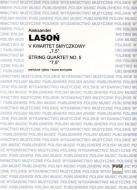 String Quartet No. 5 "7,5"
Countries of delivery:

The music of Aleksander Lasońs String Quartet No. 5, 7.5 combines intensity of feeling with the perfection of a new understanding of the quartet form, and expresses the will to live, joy and responsibility. The music depicts and completes the missing element of man's existence. It changes the channel of communication, sings of strength without contradiction, sings of new times in harmony and freedom. It portrays the feelings of men in a superhuman way. The mystery of the world is in this music, it falls away from every note that is sounded. It captures and stores our present time, the past and the future. It kindles inner light and simplicity, rejects destructive vibrations of the body, it rejects theoretical considerations of essentiality, it refuses to break the beauty of human nature and the indefatigable nature of man. Euphony. A symphony of strings. Clad in spiritual pleasure of listening and elusive divinity of sustained notes. The nature of this music is to be, but undefined. It is the apotheosis of freedom and destiny. Justyna Kowalska-Lasoń
ISMN 979-0-2740-0784-3
Language of edition: eng, pol
Cover: softcover
Type: score and parts
50,00 EUR
Suggested retail price.