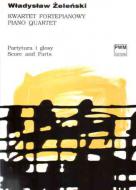 Piano Quartet in C minor
Op. 61
Countries of delivery:

Cat. no. 10088

ISBN ISSN: 83-224-0802-1
EAN: 9788322408025
In general, Żeleński's instrumental music is in Classical forms and shows structural symmetry combined with clearly tonal, functional harmony. His Piano Quartet is also clear in the cast of its melodies, the textures of the piano writing, the distribution of the voices. However Żeleński's voice may not be entirely individual, but he certainly knew how to use it: this work is expertly put together, with a real sweep that commands the listener's attention at every stage of its four-movement progress. And there are some gorgeous melodies in it, particularly in the Romanza that forms the slow movement.
Series: Polish Chamber Music
Language of edition: eng, pol
Number of pages: 120
Cover: softcover
No. of edition: 1
Published: 2000
Type: score and parts
Size: N4 vertical (235x305 mm)