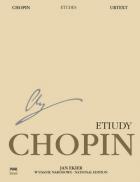 Studies, WN
for Piano
Countries of delivery:

Cat. no. 51600002

ISBN ISSN: 83-87202-33-9
These present a full repertoire of training types of articulation and textures, but clearly go beyond this strictly practical task. They are lyrical miniatures in which technical performance formulae, given depth and sophistication, have become a means of musical expression. 
Critical source-edition edited by Jan Ekier and Paweł Kamiński based on manuscripts, copies approved by Chopin himself, and first editions. Its purpose is to present the works of Chopin in authentic form.
Series: Chopin, WN (ed. Ekier)
Language of edition: eng, pol
Number of pages: 164
Cover: softcover
No. of edition: 1
Published: 2000
Size: N4 vertical (235x305 mm)
Table of contents:
| | |
| --- | --- |
| Chopin Fryderyk | Study in A minor Op. 10 No. 2 |
| Chopin Fryderyk | Study in A minor Op. 25 No. 11 |
| Chopin Fryderyk | Study in A minor Op. 25 No. 4 |
| Chopin Fryderyk | Study in A flat major Dbop. 36 No. 2 |
| Chopin Fryderyk | Study in A flat major Op. 10 No. 10 |
| Chopin Fryderyk | Study in A flat major Op. 25 No. 1 |
| Chopin Fryderyk | Study in C major Op. 10 No. 1 |
| Chopin Fryderyk | Etiude in C major Op. 10 No. 7 |
| Chopin Fryderyk | Study in C minor Op. 10 No. 12 |
| Chopin Fryderyk | Study in C minor Op. 25 No. 12 |
| Chopin Fryderyk | Study in C sharp minor Op. 10 No. 4 |
| Chopin Fryderyk | Study in C sharp minor Op. 25 No. 7 |
| Chopin Fryderyk | Study in D flat major Dbop. 36 No. 3 |
| Chopin Fryderyk | Study in D flat major Op. 25 No. 8 |
| Chopin Fryderyk | Study in E major Op. 10 No. 3 |
| Chopin Fryderyk | Study in E minor Op. 25 No. 5 |
| Chopin Fryderyk | Study in E flat major Op. 10 No. 11 |
| Chopin Fryderyk | Study in E flat minor Op. 10 No. 6 |
| Chopin Fryderyk | Etiude in F major Op. 10 No. 8 |
| Chopin Fryderyk | Study in F major Op. 25 No. 3 |
| Chopin Fryderyk | Study in F minor Dbop. 36 No. 1 |
| Chopin Fryderyk | Study in F minor Op. 10 No. 9 |
| Chopin Fryderyk | Study in F minor Op. 25 No. 2 |
| Chopin Fryderyk | Study in G flat major Op. 10 No. 5 |
| Chopin Fryderyk | Study in G flat major Op. 25 No. 9 |
| Chopin Fryderyk | Study in G sharp minor Op. 25 No. 6 |
| Chopin Fryderyk | Study in B minor Op. 25 No. 10 |