Beginning from 2019.01.01 PWM Edition is not going to process any orders placed in internet shop by individual customers from countries other than Poland. Please find your local distributor on the list, or order our sheet music through the Hal Leonard online shop: http://www.musicshopeurope.com http://www.halleonard.com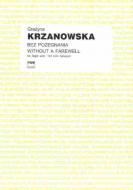 Without a Farewell
for Bassoon Solo
Countries of delivery:

Cat. no. 9888

ISBN ISSN: 83-224-0558-8
It is a strange piece of music. But please do not stop reading here - I do not mean to put you off. It is really a post-grade 8 piece, full of changing time signatures and ornaments. It goes across the whole range of notes and any dynamic you care to mention. I had a wonderful time playing it. It really gives you a chance to give your bassoon a thorough workout.. You find yourself jumping quickly across to-and-a-half octaves and trying to do piano slurs up to top Es. You definitely need the right reed for this piece. (Catherine Millar - Basoon Music Reviews)
Series: Contemporary Music
Language of edition: eng, pol
Number of pages: 8
Cover: softcover
No. of edition: 1
Published: 1999
Size: A4 vertical (210x297 mm)
4,00 EUR
Suggested retail price.