Beginning from 2019.01.01 PWM Edition is not going to process any orders placed in internet shop by individual customers from countries other than Poland. Please find your local distributor on the list, or order our sheet music through the Hal Leonard online shop: http://www.musicshopeurope.com http://www.halleonard.com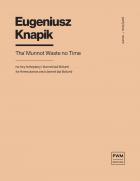 Tha' Munnot Waste No Time
for 2 Pianos and Clarinet
Countries of delivery:

Cat. no. 10081

ISBN ISSN: 83-224-0676-2
''The work ''Tha' Munnot Waste No Time'' for two pianos (three in the original version) and clarinet ad libitum, was written in 1998 in response to a commission from the ''Warsaw Autumn'' International Contemporary Music Festival. The first performance took place as part of the 1999 festival. Eugeniusz Knapik's words concerning his monumental cycle of songs ''Up into the Silence'' - that it is his ''personal, artistic farewell to the twentieth century. ''Tha' Munnot Waste No Time'' is the title of one of the chapters of a well-known and once popular (now re-emarging) book for children and young people, i.e. ''The Secret Garden'' by Frances Hodgson Burnett. The composer ''found'' that title after completing the whole of the work - and it seemed to him ideally suited to the idea that he had wanted to convey. In the festival programme book (1999) Knapik wrote: '' (...) The book, which is addressed to young readers, is about the timeless longings for Harmony, Beauty, Good and Friendship. Its basic premise is that these values are around us, and that often we are very close to them. Unfortunately, so often between the 'secret garden' and us (or maybe inside us), a wall springs up completely covering the object of our desires (...).'' Stanisław Kosz
Language of edition: eng, pol
Number of pages: 70
Cover: softcover
No. of edition: 1
Published: 2000
Type: parts
Size: A3 horizontal
20,00 EUR
Suggested retail price.


Other author's publications