Beginning from 2019.01.01 PWM Edition is not going to process any orders placed in internet shop by individual customers from countries other than Poland. Please find your local distributor on the list, or order our sheet music through the Hal Leonard online shop: http://www.musicshopeurope.com http://www.halleonard.com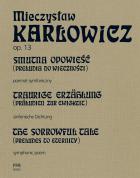 The Sorrowful Tale (Preludes to Eternity) Op. 13
symphonic poem for orchestra
Countries of delivery:

"In this poem, cast in a free form, the composer depicts the psychology of suicidal Man (…). This struggle is fought out between two contending themes, and the latter is victorious, the shot is fired." (Ignacy Chabielski, "Scena i Sztuka" 1908) The structure of this compact literary and musical story is intriguing. The work constitutes, to all intents and purposes the first manifestation of expressionism in the history of Polish music. "The Sorrowful Tale" presents in a maximally condensed form the main thematic plots embodied in Karłowicz's compositions, i.e. resignation bathed in melancholy, suffering and plaint, a dread of tragic fate, a feeling of guilt and a fear of an unknown judgement, recollections of an unfulfilled love and the lost paradise of childchood. 
Series: Karłowicz - Works
ISMN 979-0-2740-0955-7
Language of edition: eng, ger, pol
Number of pages: 28+36
Cover: hardcover
No. of edition: 1
Published: 2013
Type: score
70,00 EUR
Suggested retail price.