Beginning from 2019.01.01 PWM Edition is not going to process any orders placed in internet shop by individual customers from countries other than Poland. Please find your local distributor on the list, or order our sheet music through the Hal Leonard online shop: http://www.musicshopeurope.com http://www.halleonard.com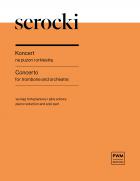 Trombone Concerto
piano reduction
Countries of delivery:

Kazimierz Serockis ''Concerto for Trombone'' is one of the few 20th-century European concert items intended for trombone. The Concerto was composed in 1953 - thus, in a difficult time for the culture of the countries in the East bloc, especially marked by the ideology of socialist realism. The pressure of political factors caused a great delay in the development of post-war Polish art, effectively damping any tendencies aiming to modernize it. In the music of our country, there took root at that time a strong attachment to the neoclassical aesthetic that also revealed itself in the Trombone Concerto, which is maintained, in its stylistic aspect, within the bounds of a convention typical of that genre. The only element differentiating Serocki's work from the traditional pattern is its structure, comprising four structural segments (instead of three). The modification introduced by the composer did not result in changes in the roles of the individual movements in the process of building the piece as a whole. The peculiar character of trombone-playing technique, furthermore, does not permit virtuosic elements to be displayed - the composer therefore replaced rivalry between the soloist and the orchestra with collaboration between them [...] T. Chylińska, S. Haraschin, M. Jabłoński: Przewodnik po muzyce koncertowej [Guide to Concert Music], (Part II, PWM Edition, Kraków 2004) The Concerto was performed for the first time by Juliusz Pietrachowicz on 18 December 1954 in Warsaw, by the Warsaw Philharmonic Orchestra.
Series: Orchestra
ISMN 979-0-2740-2123-8
Language of edition: eng, pol
Number of pages: 44+8
Cover: softcover
No. of edition: 9
Published: 2020
Type: piano reduction
Size: N4 vertical (235x305 mm)
20,00 EUR
Suggested retail price.