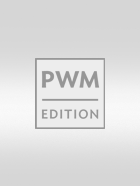 Violin Concerto No. 7
Countries of delivery:

One of the last work of the outstanding composer, consisting of three autonomous movements: 1.Tempo mutabile, 2. Largo, 3. Allegro. This external ''classical'' expression of concer form is enhanced by an exceptionally clear and highly consistent inner construction of the work. The whole compo[isition is characterized by a perfect balance between the solo part and an extremly interesting part of the orchestra, the scoring of which is virtualle traditional, enriched merely with an enlarged percussion apparatus and two harps. In the concerto No 7 - like in the majority of her violin compositions - has widely and comprehensively exploited the technical and sounding possibilities of the violin, the musical material and the mathods of its arrangement begin submitted to a primary aesthetical idea. The composition was awarded t aPrize by the Belgian Government and Gold Medal at the Queen Elizabeth International Composers' Competition in Brussels in 1965. It was premiered on January 13, 1966 in the Grande Salle du Palais de Beaux-Arts in Brussels, with Augustin Leon ara (to whom the composition is dedicated) and the Belgian Radio and Television Symphony Orchestra conducted by Daniel Sternfeld.
Number of pages: 59
Cover: softcover
Type: score
30,00 EUR


print on demand
Other author's publications
Violin with orchestra (ensemble)