Beginning from 2019.01.01 PWM Edition is not going to process any orders placed in internet shop by individual customers from countries other than Poland. Please find your local distributor on the list, or order our sheet music through the Hal Leonard online shop: http://www.musicshopeurope.com http://www.halleonard.com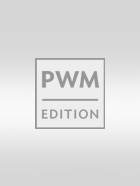 Three Diagrams
for Solo Flute Op. 15
Countries of delivery:

Cat. no. 6417

ISBN ISSN: 83-224-0612-6
Three diagrams represents a fairly small group of solo works in Górecki's output. The serial technique, pointillistic textures as well as special sensitiveness for colour, dynamics and rhythmics manifested in this work fully reflect the composer's fascination at that time with the experiments in music initiated in the 1950s. All the diagrams are marked by a structure made up of twelve segments, using the 3-4-5 pattern, typical of that period in the composer's output, which in each of the segments is arranged in a different way on the basis of three different tempos: tardo-moderato-rapido. According to its title, the whole work forms a kind of puzzle, the solution of which is entrusted to the flautist. [Based on A. Thomas, Górecki, Kraków 1998, PWM]
Number of pages: 6
Cover: softcover
No. of edition: 4
Published: 2000
Type: instrumental solo
Size: 300 x 300 mm
3,00 EUR
Suggested retail price.


Other author's publications