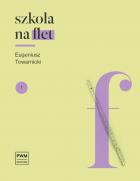 Flute Course
Book 1
Countries of delivery:

Cat. no. 5706

ISBN ISSN: 83-224-1343-2
In Polish musical literature the need for a flute method has been felt for a long time. Foreign textbooks, mainly German and French, which are now in use were written decades ago, so do not take into consideration the huge progress that has recently taken place in flute technique. It has often happened that the absence of a Polish flute method has discouraged pupils from learning the instrument, so causing the relatively limited popularity of this instrument. In order to make study easier and more enjoyable, the author has replaced dry preliminary exercises with Polish folk melodies; a supplement containing piano accompaniments for some items has been added for the same reason. The section on scales is extensive in order to enable students to attain beautiful tone and good technique. Two fingering charts appear as an appendix to the textbook.
Series: Educational Series
Language of edition: pol
Number of pages: 154
Cover: softcover
No. of edition: 16
Published: 2015
Size: N4 vertical (235x305 mm)