Beginning from 2019.01.01 PWM Edition is not going to process any orders placed in internet shop by individual customers from countries other than Poland. Please find your local distributor on the list, or order our sheet music through the Hal Leonard online shop: http://www.musicshopeurope.com http://www.halleonard.com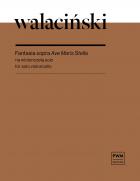 Fantasia sopra "Ave Maris Stella"
Countries of delivery:

When starting work on this composition, Adam Walaciński knew that its first performance was planned for St Mary's in Cracow, in front of the Veit Stoss altar, and that prompted the composer to turn to the Marian hymn Ave Maris Stella, widely familiar in the Middle Ages. Combining it with the term 'fantasia', he emphasised the type and character of his composition in the title.
The quasi-quotation from the hymn that appears in the introduction determines both the means employed and the expressive aspect of this miniature, initiating the work's evolutionary shaping. Following the motto, hearing distant echoes of plainsong, Walaciński forges a neomodal soundworld orientated around the note d (which begins and ends the work). Yet it is far from a strict or fixed ordering. Chromaticism appears (albeit to a limited extent), and over short segments the dominance of d is broken in favour of g and c. The cello part – led almost entirely monophonically, with only sporadic double stops – is dominated by short intervallic steps, among which one is struck by the frequent use of a minor third, which lends the work a specific colouring. The reference to plainsong also determines the treatment of the agogic-rhythmic domain, with its frequent changes of tempo and alternation of metrical and ametrical segments. This work is quite uniform in terms of expression, so particularly striking is the section marked quasi una litania, in which heightened expression is combined with a freedom of interpretation given to the performer.
Ewa Czachorowska-Zygor
translated by John Comber
ISMN 979-0-2740-2945-6
Language of edition: pol,eng,
Number of pages: 12
Cover: softcover
No. of edition: 1
Published: 2020
Type: instrumental solo
Size: N4 vertical (235x305 mm)
8,00 EUR
Suggested retail price.


Other titles in the series
Other author's publications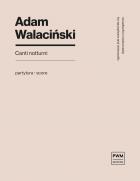 Adam Walaciński

Canti notturni
19,00 EUR Suggested retail price.
Adam Walaciński

Ballad
4,00 EUR Suggested retail price.