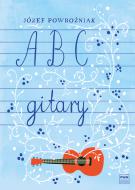 The ABC of Guitar Playing
Countries of delivery:

Cat. no. 7658

ISBN ISSN: 83-224-1263-0
The most popular guitar playing tutor-book. At the beginning the student is acquainted with the instrument: its component parts, the way it should be held, and the indications of fingers and strings. In the preface the author also provides general remarks on sound production and ways of practicing. In the subsequent parts of the method the student gains knowledge of the keys, articulation, ways of playing chords and positions etc. The chapters entitled ''Repeating Our Knowledge about Music'' are an important element of the book as they enable the student to systematize the knowledge he has acquired.
Series: Educational Series
Language of edition: pol
Number of pages: 146
Cover: softcover
Type: instrumental solo
Size: A4 vertical (210x297 mm)