Beginning from 2019.01.01 PWM Edition is not going to process any orders placed in internet shop by individual customers from countries other than Poland. Please find your local distributor on the list, or order our sheet music through the Hal Leonard online shop: http://www.musicshopeurope.com http://www.halleonard.com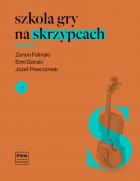 Violin Course
Part 1
Countries of delivery:

Cat. no. 6126

ISBN ISSN: 83-224-1023-9
The present tutor-book originated in notes taken down in beginners' notebooks, i.e. it grew out of practice. It is the most popular violin method that has been used by several generations of violinists. The publication contains introductory remarks, i.e. a description of the instrument, the musicians posture, position of the hands, holding the bow and so on. The practical part begins with bowing in lively crotchet values. The authors introduce folk music as practice material at a comparatively early stage.
Series: Educational Series
Language of edition: pol
Number of pages: 88
Cover: softcover
No. of edition: 20
Published: 2011
Size: N4 vertical (235x305 mm)