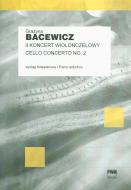 Cello Concerto No. 2
Countries of delivery:

Allegro  is the most compact movement of the Concerto, as it maintains a balance between the narrative part of the solo instrument and the sonoristic world of the orchestra; their dialogue is convincingly conducted. The cello part uses all musical resources: a simple ''atonal'' cantilena, figurations, chord successions, spiccato, glissando, flageolets and glissando-spiccato in the third movement.
Language of edition: eng, pol
Number of pages: 36+12
Cover: softcover
Type: piano reduction
Size: A4 vertical (210x297 mm)
20,00 EUR


print on demand