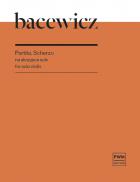 Partita, Scherzo
for solo violin
Countries of delivery:

Grażyna Bacewicz's Partita for solo violin was written shortly after she completed her composition studies on a scholarship at the Ecole normale de musique in Paris with Nadia Boulanger and instrumental studies with the legendary Hungarian violinist Carl Flesch. Her contact with those two outstanding personalities exerted a huge influence on the style of Bacewicz's music at that time. The prototype for this work was a version for violin and piano composed at the very beginning of the 30s. Bacewicz decided to alter the first movement and arrange the work for solo violin. This three-movement Partita is marked on one hand by the great exuberance of the outer movements and on the other by the tangible Parisian elegance. The middle movement Andante is a very lyrical, somewhat melancholy song. These skilfully contrasted movements make up a composition that is complete in terms of form and variety of characters.
Interestingly, the year of this work's composition (1935) was the year Grażyna Bacewicz received first distinction in the 1st International Henryk Wieniawski Violin Competition. At that time, she was on brilliant form as a violinist, as is evidenced by the huge virtuosity and showstopping character of the works she wrote at that time, including the Partita.
Grażyna Bacewicz's Scherzo for solo violin is an exceptional and very valuable work. It expands the still modest repertoire for unaccompanied violin. This virtuosic minia-ture, lasting just a few minutes, was written in 1945. The motif that evolves as the work progresses is initially presented in the key of C major, before modulating to many different keys, sometimes quite distant from one another, in a sequential man-ner that is characteristic of many of Bacewicz's works. A layer of humour and refined wit conceals a wealth of ideas, which at first seem rather conventional, but reveal their musical depth on closer analysis and as the work unfolds.
This light, airy and joyful Scherzo will certainly be to the taste of all violinists seeking striking and interesting works. It will be a splendid choice for every concert occasion, as part of a recital or as an encore piece.
My proposed fingering and bowing are based largely on ideas and suggestions contained in the autograph manuscripts of these works. The composer was also an excellent violinist and knew perfectly well how to prepare a work to meet the requirements of comfortable and effective instrumental performance.
 
Series: Strumento
ISMN 979-0-2740-3047-2
Language of edition: eng, pol
Number of pages: 20
Cover: softcover
No. of edition: 1
Published: 2020
Type: instrumental solo
Size: N4 vertical (235x305 mm)