Beginning from 2019.01.01 PWM Edition is not going to process any orders placed in internet shop by individual customers from countries other than Poland. Please find your local distributor on the list, or order our sheet music through the Hal Leonard online shop: http://www.musicshopeurope.com http://www.halleonard.com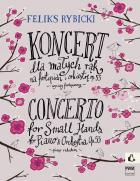 Concerto for Small Hands Op. 53
for Piano and Orchestra
Countries of delivery:

The words 'for small hands' used in the title of the Concerto may suggest that it is an easy piece aimed at children. Weel, it is not as such. Its volume (duration 19 minutes) already creates a problem of a long concentration span and music tension. (...) Technically speaking, the work requires high manual agility, as well as imagination and virtuosity at times. (...) Once the performer of this concert has overcome the hardships of comprehending and mastering parts I and II, there awaits an award - part III: uncomplicated text, pure joy, life, temperament, wit, cheek. The piece ends with the krakowiak in fff dynamics! [Andrzej Jasiński]
Series: Children Series: Cat
ISMN 979-0-2740-1197-0
Language of edition: eng, pol
Number of pages: 59+55
Cover: softcover
No. of edition: 3
Published: 2016
Type: piano reduction
Size: N4 vertical (235x305 mm)
30,00 EUR
Suggested retail price.