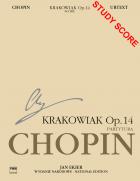 Krakowiak Op. 14, WN,
score (miniature edition)
Countries of delivery:

This most perfect of Chopin's rondos brings us an attempt to think beyond the sound of the piano alone. The orchestra became an expressive and important partner for the soloist here, whose absence would not be possible without losing the beautiful and orginal sound texture of the work.
Critical source-edition edited by Jan Ekier and Paweł Kamiński based on manuscripts, copies approved by Chopin himself, and first editions. Its purpose is to present the works of Chopin in authentic form.
Krakowiak in arrangement for one piano are to be found in volume 15 A XIVa, and the version with the piano arrangement in the volume ''Concert Works'' 32 B VII. Orchestral parts can be borrowed from the Library of Orchestral Materials of the PWM Edition (bmo@pwm.com.pl)The miniature version of the National Edition does not contain source commentary or performance notes.
Series: Chopin, WN (min. scores)
ISMN 979-0-9013366-0-5
Language of edition: eng, pol
Number of pages: 52
Cover: softcover
Type: score
Size: A5 vertical (145x205 mm)