Beginning from 2019.01.01 PWM Edition is not going to process any orders placed in internet shop by individual customers from countries other than Poland. Please find your local distributor on the list, or order our sheet music through the Hal Leonard online shop: http://www.musicshopeurope.com http://www.halleonard.com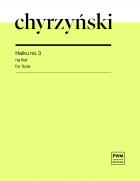 Haiku no. 3
for flute
Countries of delivery:

Haiku no. 3 for solo flute, composed by Marcel Chyrzyński with a dedication to Natalia Jarząbek, alludes to the original Japanese form. The manner of performance of the individual fragments, as well as the mood being built by the composer, are clearly specified here. For this reason, the performer has little space for emotional over-interpretation of the work, which in itself arouses various emotions in the listener. The composer creates contrasting images based on the idea of an endless phrase and of constant striving in search of the harmonic tonic, emphasizing the ceaseless flow of time. The performer is able to convey this intention only through the use of permanent breathing, which permits all manner of disturbance in the musical process to be avoided. The individual phrases, separated by a meaningful silence, in the end find a resolution of the harmonic tensions they have built up. The composer's reflection is contained in the work's final fragment, built using an endless series of sextuplets that accelerates, proceeding through various tonalities and harmonies, to find its end on the note D, which appears to be – as before – a resolution of the harmonic tension. The composer does not, however, finish his thought there, but rather adds yet another arpeggio chord that gives the impression of a question mark, of something unresolved, perhaps symbolizing the impossibility of predicting the future based on analysis of our surrounding reality and of the time inexorably passing by…


Natalia Jarząbek, Maciej Negrey
(from CD booklet: CD Infinity — DUX 1457)
translated by Karol Thornton-Remiszewski
ISMN 979-0-2740-3167-1
Language of edition: pol, eng,
Number of pages: 12+2
Cover: softcover
No. of edition: 1
Published: 2020
Type: instrumental solo
Size: N4 vertical (235x305 mm)
10,00 EUR
Suggested retail price.


Other author's publications