Beginning from 2019.01.01 PWM Edition is not going to process any orders placed in internet shop by individual customers from countries other than Poland. Please find your local distributor on the list, or order our sheet music through the Hal Leonard online shop: http://www.musicshopeurope.com http://www.halleonard.com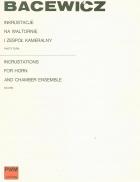 Incrustations
for Horn and Chamber Ensemble
Countries of delivery:

Cat. no. 6941

EAN: 9790274012175
The piece was written in 1965, together with its twin Trio for oboe, harp and percussion. Both these three-movement compositions use the same musical material over large spaces, but they differ in its instrumental distribution. Curiously enough, the middle slow movements of both pieces contain, once again in Bacewicz's compositions, a quotation of the solo part from the Intermezzo (third movement of the Partita of 1955). (...) Did the composer consider the Trio as mere sketches for Incrustations, since she never sent the piece to the publishers? Whatever her plans were, it is hard to overlook the connection between the two compositions as well as between the ''reminiscent'' Second Piano Quintet and the Partita in two versions. [M. Gąsiorowska, Bacewicz, PWM Kraków 1999]
ISMN 979-0-2740-1217-5
Cover: softcover
Published: 1985
Type: score
Size: N4 vertical (235x305 mm)
15,00 EUR
Suggested retail price.


Other author's publications