Beginning from 2019.01.01 PWM Edition is not going to process any orders placed in internet shop by individual customers from countries other than Poland. Please find your local distributor on the list, or order our sheet music through the Hal Leonard online shop: http://www.musicshopeurope.com http://www.halleonard.com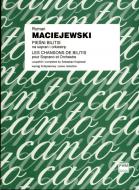 Les Chansons de Bilitis
pour Soprano et Orchestre
Countries of delivery:

The Songs of Bilitis for soprano and piano to words by Pierre Louys, translated into Polish by Leopold Staff, which Roman Maciejewski wrote in 1932, unfortunately lost. In 1935 the composer made an orchestration of the Songs, but the orchestral version also failed to survive in full to our times. The items which did are part I (The Flute) and about 2/3 of part III (Memory of Mnasidika). Part II (The Tomb of Bilitis) is lost. In addition, the complete soprano part with the Polish text has survived. The current edition is a piano reduction from the orchestral version, supplemented by Sebastian Krajewski in 2001. Sebastian Krajewski is the author of the piano reduction, and a musical arrangement of the original poems by Pierre Louys.
ISMN 979-0-2740-0797-3
Cover: softcover
Type: piano reduction
16,00 EUR
Suggested retail price.


Other author's publications
Voice(s) and orchestra (ensemble)