Beginning from 2019.01.01 PWM Edition is not going to process any orders placed in internet shop by individual customers from countries other than Poland. Please find your local distributor on the list, or order our sheet music through the Hal Leonard online shop: http://www.musicshopeurope.com http://www.halleonard.com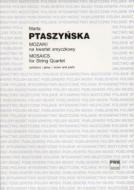 Mosaics
for String Quartet
Countries of delivery:

The inspiration for my quartet came from Beethoven's ''String Quartet'' Op. 133. The fugue's theme appears twice as a quote inmy work; in the beginning, in the viola part and at the end, in the first violin. Also, there are similarities in the motivic and rhythmic construction as well as in the use of triple and quadruple counterpoint. Analogies with Beethoven's musical language create only one layer of the multilayered music of ''Mosaics''. As the title suggests, the music continously undergoes changes and metamorphoses, creating a sound image full of rich and bold colors with strong expressive feelings. The work should be performed appassionato and with great intensity of dynamics. [M. Ptaszyńska]
ISMN M-2740-0198-8
Language of edition: eng, pol
Number of pages: 28+80
Cover: softcover
No. of edition: 1
Published: 2005
Type: score and parts
Size: A4 vertical (210x297 mm)
40,00 EUR
Suggested retail price.


Other author's publications