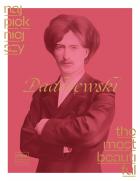 The Most Beautiful Paderewski
for Piano
Countries of delivery:

This is a selection of the most popular piano works written by Ignacy Jan Paderewski who is famous worlwide as the editor of Chopin music. He was also a well known composer of stage, orchestral, chamber and solo works. This edition presents his most popular pieces for piano including famous ''Minuet''.
In 2020 PWM Edition launched a campaign and an international educational project, which brings the works by Polish composers closer to the audiences worldwide. Second edition "Music from Chopin's Land" includes also Paderewski works. You can watch all of the performances on the YouTube.
 
Here you can see performances of Paderewski's works:
Legende Op. 16 no. 1
Nocturne op. 16 no. 4
Mazurka Op. 5 no. 2
Cracovienne fantastique Op. 14 no.6
Minuet in G major Op. 14, No. 1 
Series: The Most....
ISMN 979-0-2740-0527-6
Language of edition: eng, pol
Number of pages: 72
Cover: softcover
No. of edition: 2
Published: 2019
Type: instrumental solo
Size: N4 vertical (235x305 mm)
Table of contents:
| | |
| --- | --- |
| Paderewski Ignacy Jan | Album from the Tatra Mountains from Op. 12 No. 1 |
| Paderewski Ignacy Jan | Chant d'amour from Op. 10 No. 2 |
| Paderewski Ignacy Jan | Cracovienne fantastique from Op. 14 No. 6 |
| Paderewski Ignacy Jan | Krakowiak from Op. 5 No. 1 |
| Paderewski Ignacy Jan | Krakowiak from Op. 5 No. 3 |
| Paderewski Ignacy Jan | Legende from Op. 16 No. 1 |
| Paderewski Ignacy Jan | Mazurka from Op. 5 No. 2 |
| Paderewski Ignacy Jan | Mélodie from Op. 16 No. 2 |
| Paderewski Ignacy Jan | Melodié from Op. 8 No. 3 |
| Paderewski Ignacy Jan | Minuett from Op. 14 No. 1 |
| Paderewski Ignacy Jan | Nocturne from Op. 16 No. 4 |
| Paderewski Ignacy Jan | Theme varie from Op. 16 No. 3 |
| Paderewski Ignacy Jan | Un Moment musical from Op. 16 No. 6 |