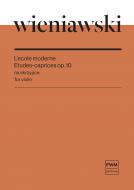 L'école moderne
Études - Caprices Op. 10 - for violin solo
Countries of delivery:

The Études-Caprices, op. 10, by Henryk Wieniawski (1835–1880) rank very high in the creative heritage left by this nineteenth-century Polish virtuoso. The caprices from L'École moderne, which Wieniawski dedicated to Ferdinand David (1810–1873), a famous violinist of that time, can rank with Paganini's Caprices.

The new Polish edition of L'École modernę is primarily based on Bartholf Senff's edition, which appeared in Leipzig in 1854 and is considered to have been the first; the autograph manuscript has so far not been found.

What is offered here is an edition based on the source at the same time designed for practical use rather than an urtext edition. The original text has been most faithfully reproduced, it has been only supplemented with a few suggestions which were prompted by the experience the editors have gained in the course of long artistic and teaching careers, suggestions in the light of present- day knowledge of the violin and complying with the aesthetic criteria of our own time. The original indications are in no way obscured by these suggestions, since the latter are graphically differentiated from the former: slurs are marked by broken lines, fingering is printed in roman type, while indications concerning dynamics and expression appear within brackets. The few dynamic marks and fingering provided by the composer are printed in italics or with thicker strokes. Brief indications qualifying the general character of the pieces and suggesting the kind and intensity of sound best suited to the piece concerned supplement the composer's indications concerning interpretation. The editorial mezza voce, con brio, grazioso, sonore e ben articolato may aid the performer in a more efficient way than the stereotype forte and piano.
Irena Dubiska
Eugenia Umińska
Series: Strumento
ISMN 979-0-2740-1136-9
Language of edition: eng, pol
Number of pages: 40
Cover: softcover
No. of edition: 5
Published: 2020
Type: instrumental solo
Size: N4 vertical (235x305 mm)