Beginning from 2019.01.01 PWM Edition is not going to process any orders placed in internet shop by individual customers from countries other than Poland. Please find your local distributor on the list, or order our sheet music through the Hal Leonard online shop: http://www.musicshopeurope.com http://www.halleonard.com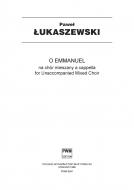 O Emmanuel
for unaccompanied mixed choir (choral score)
Countries of delivery:

This is the price of one copy. For different number of copies (minimum: 16) please contact us: sales@pwm.com.pl.
The study score you can find here
The work was composed between 1996-1998 as one of the Seven Advent Antiphons. Dedicated to Jan Łukaszewski and Schola Cantorum Gedanensis it was for the first time performed by them during the Seventh International Festival of Sacred Music ''Gaude Mater'' in Częstochowa in 1997. The antiphons - according to the Roman Missal from 1956 - are ''an ardent call to Messiah and, at the same time, they wonderfully specify his characteristics and glorious Names''. The characteristic call beginning each of them is the reason why they are sometimes simply described as ''O'' antiphons. Łukaszewski uses this particle in the first, initial segment, in which the letter ''o'' is sung in alternation with bocca chiusa. Further on, the restless, quick section first introduces gradually separate syllables and even particular speech sounds before the word appears as a whole. Thus each word seems to be first carefully prepared, taken into pieces - i.e. separate sounds - and then put together. The next segment, presenting the whole of the Latin text, lasts for a shorter time than the initial one. The composer attains an austere, ascetic aura due to the exposure of the interval of the fifth, which is the basis of the fundamental motif of the work, obsessively repeated and subjected to bigger and bigger deflections up to an octave. In the insert to the CD on the Acte Prealable label, which recorded the whole cycle of ''Antiphons'' the composer writes: ''The repeatability of musical ideas and words slows down the tempo of events, lengthens the time - it is stopped, suspended, considered. [...] The limitation, sometimes to a few sounds or chords, makes the sounds gain new depth and new time.''
Language of text: lat
Number of pages: 28
Cover: without cover
No. of edition: 1
Published: 1999
Type: choral score
Size: A4 vertical (210x297 mm)
6,00 EUR
Suggested retail price.


Other author's publications