Beginning from 2019.01.01 PWM Edition is not going to process any orders placed in internet shop by individual customers from countries other than Poland. Please find your local distributor on the list, or order our sheet music through the Hal Leonard online shop: http://www.musicshopeurope.com http://www.halleonard.com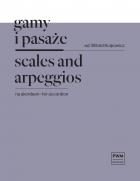 Scales and Arpeggios
for Accordion
Countries of delivery:

Cat. no. 6357

ISBN ISSN: 83-224-1729-2
The material of the ''Scales and Passages'' has been systematised in a certain definite manner but, at the same time, it gives examples on the basis of which one may form various other scale and passage exercises. Thus the choice and order of the practice material depends on the teacher and on the method used by him. Each key is provided with parallel and divergent scales in octaves, thirds and sixths as well as in two-note chords for the right hand. Major-minor scales (those with sharps and flats) are followed by chromatic scales and then exercises in whole-tone scales are presented.
Series: Educational Series
Language of edition: pol
Number of pages: 108
Cover: softcover
No. of edition: 11
Published: 2002
Size: A4 vertical (210x297 mm)
16,00 EUR
Suggested retail price.