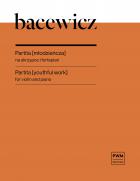 Partita (youthful work)
for violin and piano
Countries of delivery:

Grażyna Bacewicz's Partita for violin and piano is a three-movement work written at the beginning of the 30s while she was studying composition in Warsaw and Paris. Although far greater recognition has been gained in the music literature by another Partita for violin and piano (composed in 1955), her huge potential and excellent composition technique is already on display during this early period. The best evidence to that effect is her recycling of the musical material of the Partita – to be more exact, of the violin part of the second and third movements – in a version for solo violin written several years later.
The opening Allegro is remarkably lively, dancing and lyrical. Thanks to the counterpointing or complementing of motifs, the violin part corresponds excellently with the piano part. The middle Andante is marked by considerable calmness, although at times the narrative becomes somewhat agitated. The punchy Vivo finale, containing elements of a rondo with variations, ends with a striking coda in the parts of both instruments.
My proposed fingering and bowing are based largely on ideas and hints contained in the autograph manuscript of the work. The composer was also an excellent violinist and knew perfectly well how to prepare a work to meet the requirements of comfortable and effective instrumental performance.
 
Series: Strumento
ISMN 979-0-2740-3086-5
Language of edition: eng, pol,
Number of pages: 28+8
Cover: softcover
No. of edition: 1
Published: 2020
Type: score and parts
Size: N4 vertical (235x305 mm)