Beginning from 2019.01.01 PWM Edition is not going to process any orders placed in internet shop by individual customers from countries other than Poland. Please find your local distributor on the list, or order our sheet music through the Hal Leonard online shop: http://www.musicshopeurope.com http://www.halleonard.com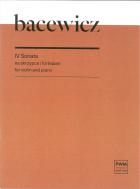 Sonata No. 4
for Violin and Piano
Countries of delivery:

The music of the Sonata No. 4 sounds like a contemporary Brahms. A somewhat capricious but a wide-ranging subject matter of the composition is Brahmsian as well as its rhythmical roundness  and a pathetic and ''demoniac'' mood of some of its sections (especially in the fourth movement)  At the same time, while being pathetic and monumental, the work has a simple, transparent and thin texture; it is the piano part - not overdone but expressive and forming an interesting contrast with the violin part that is noteworthy. It is a very significant and mature work with an excellent form, its flexible, uniform and ''homogeneous'' narration being its great achievement. 
ISMN 979-0-2740-1219-9
Language of edition: eng, pol
Number of pages: 48
Cover: softcover
No. of edition: 6
Published: 2019
Type: solo part (instrumental) + accompaniment
Size: N4 horizontal (305x235 mm)
15,00 EUR
Suggested retail price.