Beginning from 2019.01.01 PWM Edition is not going to process any orders placed in internet shop by individual customers from countries other than Poland. Please find your local distributor on the list, or order our sheet music through the Hal Leonard online shop: http://www.musicshopeurope.com http://www.halleonard.com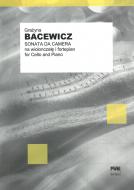 Sonata da camera
for Cello and Piano (transcription)
Countries of delivery:

The transcription of Grażyna Bacewicz's ''Sonata da camera'' presented here it aims at both the preservation of the form of the work and the transfer of the violin part to that of the cello as faithfully as possible with the simultaneous retention of the original piano part so as not to change anything that was already perfect.
''Sonata da camera'' (1945), in its structure and the character of its particular movements, alludes ''unobtrusively'' to the pattern of Italian Baroque sonatas. In this work Grażyna Bacewicz's compositional idiom is characterized by a reflective mood in the slow movements (1,4), a fervent, ferocious energy and unusual temperament in the motoric and dance movements (2,5) as well as refined elegance in the movement Tempo di minuetto (3).
This transcription of Grażyna Bacewicz's ''Sonata da camera'' is designed for advanced, dynamic and technically efficient cellists. It will certainly form a pleasing addition in many a recital.
ISMN M-2740-0495-8
Number of pages: 32+12
Cover: softcover
Type: piano reduction, solo part (instrumental) + accompaniment
Size: A4 vertical (210x297 mm)
18,00 EUR
Suggested retail price.