Beginning from 2019.01.01 PWM Edition is not going to process any orders placed in internet shop by individual customers from countries other than Poland. Please find your local distributor on the list, or order our sheet music through the Hal Leonard online shop: http://www.musicshopeurope.com http://www.halleonard.com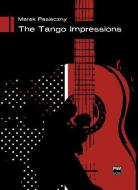 The Tango Impressions
Tribute to the Art of Astor Piazzolla
Countries of delivery:

I was never a huge fan of Astor Piazzolla's music, but always admired his original style, faithfulness to the musical culture from which he descended, and possibility his sense of style. Besides his obvious huge influence from Argentinian Tango, Piazzolla's music is largely based on improvisation, which also appeals to jazz (including the element of spontaneous and continuous creating of music, often based on sophisticated harmony). His cycle 'Cinco Piezas' is originally written for solo guitar, and in my opinion it is one of the most valuable compositions from the 20th century for this instrument. However, I did not decide to write 'Tribute to the Art...' because of the above elements. Contributed to the above are the following coincidences: Experiments from non-typical scordatura (in this case E 6th to F), exploring of innovatory techniques (at least relating to classical guitar) such as tapping, hammering, and percussive effects and their infinite scale of colours to outputs on the guitar. To summarise - widely comprehended sonorism. Technical level, musical expression and ease, a necessity to perform this piece, creates great challenges for the instrumentalist. [Marek Pasieczny]
ISMN 979-0-2740-0782-9
Number of pages: 12
Cover: softcover
Type: instrumental solo
9,00 EUR
Suggested retail price.