Beginning from 2019.01.01 PWM Edition is not going to process any orders placed in internet shop by individual customers from countries other than Poland. Please find your local distributor on the list, or order our sheet music through the Hal Leonard online shop: http://www.musicshopeurope.com http://www.halleonard.com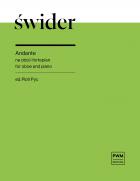 Andante
for Oboe and Piano
Countries of delivery:

Andante for oboe and piano was found only after the composer's death in 2014. According to his private notes discovered by his family, it was written in 1951, which means that it is one of its earliest compositions.

This one-part work, set in neoromantic aesthetics, is based on two themes. The first one – in D Minor – initially appears in the piano part, and then it is captured by the oboe. It puts a listener in a tranquil, sentimental mood. The second one – in D Major – is livelier and jollier (più mosso), though in terms of melodic motifs some of its fragments come closer to the first theme in a form of its variation-style development. This is capped by a solo cadenza of the oboe that leads to the recapitulation of the first theme and the following tranquil, cantilena-style coda.

Józef Świder's Andante for oboe and piano, despite its charming simplicity, is a work full of reverie, nostalgia and subtle melancholy. This proves the young composer's liking for clarity, lyricism and romantic expression, typical of his late artistic work.

                                                                                                                                           (Piotr Pyc)
ISMN 9790274017989
Language of edition: eng, pol
Number of pages: 10+3
Cover: softcover
No. of edition: 1
Published: 2016
Type: solo part (instrumental) + accompaniment
Size: N4 vertical (235x305 mm)
11,00 EUR
Suggested retail price.