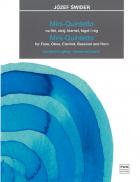 Mini-Quintetto
for Flute, Oboe, Clarinet, Basoon and Horn
Countries of delivery:

In its character, Mini-Quintetto is a neoclassical composition comprised of seven parts. It is perfectly suited as a didactic material for the students of music schools of the 2nd grade, revealing vast areas of chamber music dedicated to woodwind instruments. 

After 22 years since the first staging of the work, in 2005, Józef Świder decided to supplement the quintet with additional parts: Imitazione and Polonaise. The work was kept in the drawer another 11 years in order to be finally recorded and staged (7th December 2016, the Józef Świder Festival in Cieszyn) as well as released. 
Language of edition: eng, pol
Number of pages: 36+13+13+12+15+12
Cover: softcover
No. of edition: 1
Published: 2016
Type: score and parts
Size: N4 vertical (235x305 mm)
Other author's publications