Beginning from 2019.01.01 PWM Edition is not going to process any orders placed in internet shop by individual customers from countries other than Poland. Please find your local distributor on the list, or order our sheet music through the Hal Leonard online shop: http://www.musicshopeurope.com http://www.halleonard.com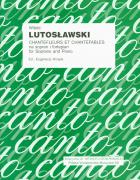 Chantefleurs et chantefables
Song Cycle for Soprano and Orchestra
Countries of delivery:

''Songflowers and songfables'' - that's how the original French title of the work can be translated into English, but it is possible to do it another way: flowers' song and fables' song. Not being able to find a poem suitable for musicalisation, Lutosławski once again reached to children's poetry and, again, for Les Espaces du Sommeil, the verses of a French poet Robert Desnos. His book contains 80 short poems about flowers, animals, birds and insects. The poems are intended for children which I cannot say about the music of my cycle of 9 songs for soprano and orchestra, however their child character has its reflection in the music I have written.
Language of text: fre
Number of pages: 81
Type: score
Size: A3 vertical
30,00 EUR
Suggested retail price.


Other author's publications
Voice(s) and orchestra (ensemble)