Beginning from 2019.01.01 PWM Edition is not going to process any orders placed in internet shop by individual customers from countries other than Poland. Please find your local distributor on the list, or order our sheet music through the Hal Leonard online shop: http://www.musicshopeurope.com http://www.halleonard.com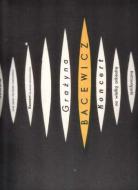 Concerto for Large Symphony Orchestra
Countries of delivery:

This is the first of the works representing a great synthesis, a union of the paradigm of logical form; its developmental stages are clearly planned out, the points of tension and relaxation - intelligible, but already shaped with the use of new means of expression. Above all, the composer gave up the motivic technique as a basis for constructing the form. Some quasi-thematic sections do appear, however, as well as their recapitulation at the end of the composition. The performers have an opportunity to display their technical abilities. It is, however, necessary for both the conductor and the orchestra to maintain strict discipline throughout the composition. [M. Gąsiorowska, op. cit.]
52,00 EUR
Suggested retail price.


Other author's publications