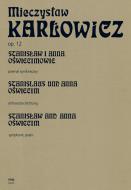 Stanisław and Anna Oświecim op. 12
symphonic poem for orchestra (Score and voices in the new edition of the Works of Mieczyslaw Karłowicz)
Countries of delivery:

The genesis of the symphonic poem Stanisław and Anna Oświecim [Stanisław i Anna Oświecimowie] reaches deep into the composer's youth and is shrouded in mystery. Adolf Chybiński, the composer's scrupulous biographer, notes that between 9 and 14 February 1893 the Karłowiczes and their children were in Cracow for the wedding of their daughter Wanda and Zygmunt Wasilewski, when the then sixteen-year-old Mieczysław saw Stanisław Bergman's painting Stanisław Oświęcim beside the Body of Anna Oświęcim
[Stanisław Oświęcim przy zwłokach Anny Oświęcimówny] on display in the Cloth Hall. Bergman, a talented pupil of Jan Matejko, was born in Krosno, where since the seventeenth century the burial crypt of the Oświecim siblings had stood in the Baroque chapel-mausoleum in the Franciscan church. The subject of a local cult, around the turn of the nineteenth century that crypt became the source of a popular, and thoroughly Romantic, legend of the tragic love between brother and sister. The legend fell on fertile soil in the young Mieczysław's psyche. As we know from several people close to the composer – Helena Romer-Ochenkowska, Alina Świderska and Kazimierz Prószyński – Mieczysław was extremely fond of his cousin Ludwika Śniadecka; a close acquaintance of the composer, Stanisław Szumowski, suggested that this youthful love played a crucial role in the later inspiration of the symphonic poem. The Romantic motif of unrequited love, or of an unhappy or tragic love, appeared already in Karłowicz's songs, then in his overture to The White Dove [Biała gołąbka] and his first symphonic poem, Returning Waves [Powracające fale]. Karłowicz showed a particular liking for such stories. But was he merely following the fashion of his melancholy, pessimistic times? Certainly not. Such an attitude was undoubtedly fuelled by personal experience and by the composer's mental disposition – his depressive nature and solitude. And so the poem Stanisław and Anna Oświecim is a characteristic example of the musical setting of the Romantic myth of 'unhappy love'; it is a programme work, in which the dramatic narrative is transformed into a finalistic structure of 'an aspiration to eternity'.
Series: Karłowicz - Works
ISMN 979-0-2740-1008-9
Number of pages: 80
Cover: hardcover
Published: 2014
Type: score
Size: A3 vertical