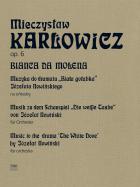 Bianca da Molena, 'Works' Vol. 3
Music to the drama 'The White Dove' by Józefat Nowiński for Orchstra, Op. 6
Countries of delivery:

This edition of the works of Mieczysław Karłowicz is based on critically examined sources. It includes all his compositions. 
The aim of the edition is to present the composer's original text as authentically as possible. This is not an easy task. The source materials of Karłowicz's music are very diverse in nature. Apart from most of the songs, the composer prepared for printing and published in his lifetime the following: Serenade for string orchestra Op. 2, Prelude and Fugue Op. 5, Concerto in A major for violin and orchestra Op. 8, Returning Waves Op. 9 and Eternal Songs Op. 10. Being highly experienced in writing for a symphony  orchestra, and knowledgeable in the modern method of instrumentation in the neoromantic style, he prepared his scores with great care. The remaining symphonic poems were not published before the composer's death; and the 'Rebirth' Symphony, the manuscript of which miraculously survived the ravages of World War II, was issued only in 1993, as part of the present Complete Works edition. During this war the autographs of the most compositions by Karłowicz, including all his symphonic poems (except for The Sorrowful Tale), were lost. 
The present publication, therefore, is based as a rule on the first editions, compared with extant autographs or authorized copies of the scores. The amendments of misprints or self-evident mistakes on the part of the composer are not indicated graphically in the text but referred to in the Editorial Notes.
Series: Karłowicz - Works
ISMN 9790274017194
Language of edition: eng, ger, pol
Number of pages: 98
Cover: hardcover
No. of edition: 1
Published: 2017
Type: score
Size: N4 vertical (235x305 mm)