Beginning from 2019.01.01 PWM Edition is not going to process any orders placed in internet shop by individual customers from countries other than Poland. Please find your local distributor on the list, or order our sheet music through the Hal Leonard online shop: http://www.musicshopeurope.com http://www.halleonard.com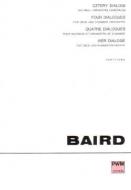 Four Dialogues
for Oboe and Chamber Orchestra
Countries of delivery:

Cat. no. 5670

ISBN ISSN: 83-224-2966-5
''Four Dialogues'', from 1964, is scored for oboe and chamber orchestra comprised of 27 instrumentalists. The ''Dialogues'' were commissioned by German oboist Lothar Faber, and are also dedicated to him. In the works sound plane, the composer selects and combines timbres with unusual care, as well as with enormous taste and refinement. The intense, saturated tone and the essential role of sound expression bring this work closer to the Romantic tradition. According to the composers words, the title represents the best, sufficient commentary concerning the workís form. In 1966, for Four Dialogues, Tadeusz Baird received 1st Prize at the UNESCO IMC International Rostrum of Composers in Paris.
Series: Library of Miniature Scores
Language of edition: pol
Number of pages: 36
Cover: softcover
No. of edition: 3
Published: 1993
Type: score
Size: B5 vertical (175 x 245 mm)