Beginning from 2019.01.01 PWM Edition is not going to process any orders placed in internet shop by individual customers from countries other than Poland. Please find your local distributor on the list, or order our sheet music through the Hal Leonard online shop: http://www.musicshopeurope.com http://www.halleonard.com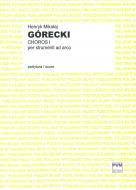 Choros I per strumenti ad arco
Op. 20
Countries of delivery:

Choros I reveals Górecki's predilection for using old forms and transparent musical structures. While the ''choral'' way of treating the instruments used for the realization of this work (4 groups of strings: violins, violas, cellos and double-basses entering in alternation) is logical and clear, the work is characterized by a certain complication as far as the notation and performance are concerned. Limited pitches and persistently repeated motivic-rhythmical formulas resembling ostinato as well as the aleatory character of rhythmical values (introduced in some sections of the work) contribute to the fact that Choros I represents the tendency, which can be described as musical ''abstract art'', analogous to e.g. abstract painting.
Series: Library of Miniature Scores
Language of edition: eng, ger, pol
Number of pages: 72
Cover: softcover
Type: score
Size: A4 vertical (210x297 mm)
29,00 EUR
Suggested retail price.