Beginning from 2019.01.01 PWM Edition is not going to process any orders placed in internet shop by individual customers from countries other than Poland. Please find your local distributor on the list, or order our sheet music through the Hal Leonard online shop: http://www.musicshopeurope.com http://www.halleonard.com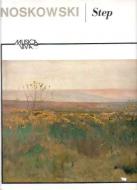 The Steppe
Symphonic Poem Op. 66
Countries of delivery:

The symphonic poem The Steppe was composed in 1896, and numbers among the most distinguished and well-known of Zygmunt Noskowskis works. The piece is in a sonata allegro form with contrasting themes characterizing the sides of the Polish-Cossack conflict, and with a battle scene in the development. The main value of this composition is a melodic language of great breath, utilizing elements of Polish and Ukrainian folklore. Uncommonly often, relationships between The Steppe and Henryk Sienkiewiczs Trilogy are emphasized, especially with the novel With Fire and Sword. This work, like the Trilogy, was written for the comforting of hearts during the Partition period in Polish history. Zygmunt Noskowski preceded the score with the following invocation: O marvelous steppe, I greet you with song. Among your measureless spaces were heard both the rush of wings and the sound of cavalry hooves, the resonance of the shepherds pipe and the nostalgic Cossack song, accompanied by theorbos and drums, the outbreak of war cries and the clash of sabers. The enormous battles and wrestlings are over, warriors have been lain in their graves. You alone, o great steppe, have remained eternally beautiful and peaceful!
40,00 EUR
Suggested retail price.


Other titles in the series
Other author's publications