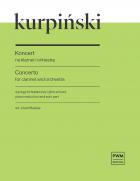 Clarinet Concerto in B flat major
Countries of delivery:

During a trip lasting several months in 1823, the aim of which was to visit the ''most important theatres in Europe'', the composer stopped in Paris. There he finished his ''Concerto in B flat major'' for clarinet and orchestra, started in Warsaw in 1820. The premiere of the work took place on the eve of Kurpiński's departure. Up to date only the first movement of the Clarinet Concerto, in the sonata allegro form with three themes, has survived. The work was popularized by Józef Madeja, who played it frequently, edited it and provided it with a virtuoso cadenza.
Series: Orchestra
ISMN M-2740-029-6
Language of edition: eng, ger, pol
Number of pages: 22+8
Cover: softcover
Type: piano reduction
Size: N4 vertical (235x305 mm)