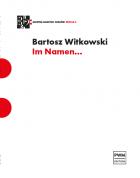 Im Namen...
for reed trio
Countries of delivery:

Im Namen... should stir associations with Baroque melody. Here, however, intricate counterpoints give way to tonal games: accumulated dissonances or quasi-tonal chorales, which are like a reflection of former simplicity in a crooked mirror.
The title – German for 'In the name of…' – refers to the musical tetragram hidden in the score, which forms the harmonic basis for one of the sections of the work. In Im Namen..., irony mingles with Baroque emphasis, and the whole work adheres to a spirit of nonchalance and a play with affects.
Series: Music of Our Times
ISMN 979-0-2740-3187-9
Language of edition: pol, eng,
Number of pages: 16+8+8
Cover: softcover
No. of edition: 1
Published: 2020
Type: score and parts
Size: N4 vertical (235x305 mm)
Other titles in the series