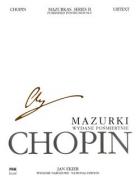 Mazurkas (published posthumously), WN
for Piano
Countries of delivery:

Cat. no. 51600017

ISBN ISSN: 83-920365-6-5
Composed by Chopin continuously from 1825 until 1849, coming from a semi-utility genre, intended for dancing, and becoming a form of lyrical reflection, deeply personal expression. They also constitute a form of Chopin's expression of longing for his homeland. They are characterised by a limitation of textural means, miniaturism and transparency of form, condensation of harmonic means, simplicity, but with sublime expression.

Critical source-edition edited by Jan Ekier and Paweł Kamiński based on manuscripts, copies approved by Chopin himself, and first editions. Its purpose is to present the works of Chopin in authentic form.
The Mazurkas prepared for print and published by Chopin are contained in a separate volume 4 A IV.
Series: Chopin, WN (ed. Ekier)
Language of edition: eng, pol
Number of pages: 42+12
Cover: softcover
Type: instrumental solo
Size: A4 vertical (210x297 mm)
Table of contents:
| | |
| --- | --- |
| Chopin Fryderyk | Mazurka in A minor, WN 14 |
| Chopin Fryderyk | Mazurka in A minor, WN 60 |
| Chopin Fryderyk | Mazurka in A minor, WN 60 (earlier version) |
| Chopin Fryderyk | Mazurka in A flat major, WN 45 |
| Chopin Fryderyk | Mazurka in B flat major, WN 41 |
| Chopin Fryderyk | Mazurka in B flat major, WN 7 |
| Chopin Fryderyk | Mazurka in B flat major, WN 7 (earlier versions) |
| Chopin Fryderyk | Mazurka in C major, WN 24 |
| Chopin Fryderyk | Mazurka in C major, WN 47 |
| Chopin Fryderyk | Mazurka in F major, WN 25 |
| Chopin Fryderyk | Mazurka in F minor, WN 65 |
| Chopin Fryderyk | Mazurka in G major, WN 26 |
| Chopin Fryderyk | Mazurka in G major, WN 8 |
| Chopin Fryderyk | Mazurka in G minor, WN 64 |