Beginning from 2019.01.01 PWM Edition is not going to process any orders placed in internet shop by individual customers from countries other than Poland. Please find your local distributor on the list, or order our sheet music through the Hal Leonard online shop: http://www.musicshopeurope.com http://www.halleonard.com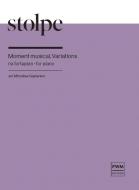 Moment musical, Variations
for piano
Countries of delivery:

The present publication fills a gap in the publishing market caused by the lack of access to the piano works of Antoni Stolpe (1851–1872). Published to date was only the Sonata in D minor by this outstanding young Polish pianist and composer. The Jagiellonian Library in Cracow is in possession of manuscripts of other piano works by Stolpe. These valuable and striking compositions deserve a lasting place in the repertoire of concert pianists.
The Variations in D minor represent Stolpe's other cyclic piano work besides the Sonata in D minor. They date from the period of the composer's studies in Berlin (their manuscript bears the date 28 February 1870 and the place of composition: Berlin). This is a youthful work, consisting of a theme and twenty-one variations, the last of which was marked Finale by the composer (this is an elaborate variation containing reminiscences of the theme and a coda). The composer did not impart a final form to this work, leaving numerous options for ordering the variations, as well as deleting variations 4 and 5.
Mirosław Gąsieniec, who prepared this first edition, ultimately chose from the manuscript seventeen variations and proposed a specific order to them, guided by the intention of forging an optimal architecture and dramatic structure to the cycle. He also made minor revisions to the text. Despite the composer's young age, the Variations in D minor are an outstanding work not just in the Polish music of the second half of the nineteenth century. Variation No. 3 delights the listener with its scherzando character, No. 5 with its colouring and unusual harmonies, No. 16 with its lyrical and atmospheric character, in the style of Schumann. The overall texture is varied, and one notes Stolpe's mastery of counterpoint and imitation technique. Gąsieniec made certain textural alterations to the final variation and simplified the notation in the coda.
The Moment musical appended to this edition was preserved in the manuscript as an Allegro appassionato in the key of C minor, with the date 14 October 1869. It is one of the more elaborate piano works by the eighteen-year-old Stolpe. In preparing this composition for publication, Mirosław Gąsieniec made several changes of a textural nature, wishing primarily to remove the small number of observed 'awkward' places in the notation of this youthful work.
Artur Bielecki
ISMN 979-0-2740-2989-0
Language of edition: eng, pol
Number of pages: 52
Cover: softcover
No. of edition: 1
Published: 2020
Type: instrumental solo
Size: N4 vertical (235x305 mm)
22,00 EUR
Suggested retail price.