Beginning from 2019.01.01 PWM Edition is not going to process any orders placed in internet shop by individual customers from countries other than Poland. Please find your local distributor on the list, or order our sheet music through the Hal Leonard online shop: http://www.musicshopeurope.com http://www.halleonard.com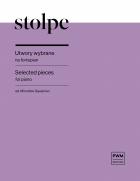 Selected pieces for piano
Countries of delivery:

The piano works of Antoni Stolpe (1851–1872) place this young composer and pianist in the same rank as such talented Polish composers of the second half of the nineteenth century as Juliusz Zarębski and Ignacy Jan Paderewski. This collection is the first ever presentation of works which Stolpe composed during the Warsaw period in his life, before he left, in June 1869, to study music in Berlin. This edition was based on the manuscripts of Stolpe's piano works held in the Jagiellonian Library in Cracow, which are lacking exact dates for particular compositions.
This edition was prepared by the composer and pianist Mirosław Gąsieniec. In the case of three works – Duetto, Impromptu and Nocturne – he proposed the generic names as titles. Duetto (entitled Allegretto non troppo in the manuscript) is a subtle, atmospheric nocturne, inspired by the traditions of the genre. In the Impromptu (originally titled Allegretto), Gąsieniec made certain revisions: he referred to Schubert's famous Impromptu in G flat major with regard to the disposition of the two hands, marked longer phrases and added a short coda. The Mazourka provides moving testimony to the young Stolpe's inventiveness and artistry; it represents his personal slant on the unparalleled model of this genre in the oeuvre of Chopin. The Nocturne (Andante in the manuscript) clearly refers to the style of Chopin (Gąsieniec restored and modified the coda, deleted by Stolpe). The dazzling Valse, pieced together from three manuscript fragments, contrasts virtuosic outer sections with a calmer, strikingly original middle section.
The Sonata in A minor is a very early work, composed in 1866–1867. It was not completed, with only an expansive Allegro extant. This movement realises, in a far from schematic way, the idea of sonata form.
Artur Bielecki
ISMN 979-0-2740-2988-3
Cover: softcover
No. of edition: 1
Published: 2020
Type: instrumental solo
Size: N4 vertical (235x305 mm)
16,00 EUR
Suggested retail price.