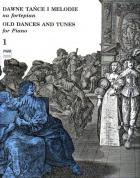 Old Dances and Melodies
for Piano, Book 1
Countries of delivery:

Cat. no. 6191

ISBN ISSN: M-2740-0097-4
The present collection is means as a preparation for studying larger-scale classical forms such as sonatinas, variations, sonatas etc. It contains valuable pieces which, at the same time, are not very difficult, so making them suitable for use in the first years of instruction. Those who play only for pleasure will also enjoy them. 
Series: Jubilee Series
Language of edition: pol
Number of pages: 40
Cover: softcover
Size: N4 vertical (235x305 mm)
Table of contents:
| | |
| --- | --- |
| Mozart Wolfgang Amadeusz | Allegro |
| Telemann Georg | Allegro |
| Telemann Georg | Andantino |
| Purcell Henry | Aria |
| Graupner Christoph | Bourée |
| Haendel Georg Friedrich | Chaconne |
| Haendel Georg Friedrich | Fanfare |
| Haendel Georg Friedrich | Gavotte |
| Telemann Georg | Giocoso |
| Telemann Georg | Grave |
| Haendel Georg Friedrich | Invention |
| Rameau Jean-Philippe | Minuet |
| Mozart Wolfgang Amadeusz | Minuet |
| Bach Wilhelm | Minuet |
| Mozart Wolfgang Amadeusz | Minuet |
| Kuhnau Johann | Minuet |
| Haendel Georg Friedrich | Minuet |
| Mozart Wolfgang Amadeusz | Minuet |
| Haendel Georg Friedrich | Minuet |
| Mozart Wolfgang Amadeusz | Minuet |
| Mozart Wolfgang Amadeusz | Minuet |
| Haendel Georg Friedrich | Minuet |
| Haendel Georg Friedrich | Passapied |
| Corelli Arcangelo | Saraband |
| Haendel Georg Friedrich | Saraband |
| Anonim | Six Old Dances |
| Haydn Józef | Dance |