Beginning from 2019.01.01 PWM Edition is not going to process any orders placed in internet shop by individual customers from countries other than Poland. Please find your local distributor on the list, or order our sheet music through the Hal Leonard online shop: http://www.musicshopeurope.com http://www.halleonard.com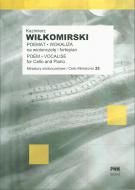 Poem; Vocalise
for Cello and Piano
Countries of delivery:

Cat. no. 7171

ISBN ISSN: 82-224-0763-7
''''Poem'' is one of Kazimierz Wiłkomirski's earliest works - it was written in February 1924, almost a year after he had graduated in composition at the Warsaw Conservatory. Presented by the composer in Warsaw (among other places) on 4 February 1925, it was received with ''appreciation and good will'' by the reviewers and has enjoyed ''good will'' ever since. The war prevented the already planned publication of Poem, but the matrices, which survived by a stroke of good luck, made it possible to publish it as one of the first items (No. 5) issued by PWM Edition (1945). At the time ''Poem'' was composed, Kazimierz Wiłkomirski was fascinated, as he recollects, by the music of Sergey Rachmaninov, then at the peak of his popularity. Hence the work clearly betrays his influences in all the elements of the musical language, the texture of both instruments as well as the explosively passionate and, at points, dramatically pathos-laden character. ''Vocalise'' dates from 1951 and was originally part of a cycle of ''Four Pieces'' for cello (PWM 1953). The cycle - ''Cradle Song'', ''Krakowiak'', ''Vocalise'', ''Scherzo' - had been intended as a not very difficult teaching piece for pupils in the final years of primary music schools or the first year at secondary level. But, in fact, the ''Four Pieces'' vary in difficulty and musical value. The Vocalise is the most valuable and, owing to its artistic qualities, exceeds its pedagogical function. It is ''music for the sake of itself'', a lyrical miniature full of charm and is frequently performed on the concert platform. In comparison to the youthful Poem it represents Kazimierz Wiłkomirski's individual musical language, one that grew out of the best neoromantic traditions. [Stanisław Haraschin]
Series: Educational Series
Language of edition: eng, pol
Number of pages: 12+4
Cover: softcover
No. of edition: 1
Published: 2002
Type: solo part (instrumental) + accompaniment
Size: A4 vertical (210x297 mm)
6,00 EUR
Suggested retail price.